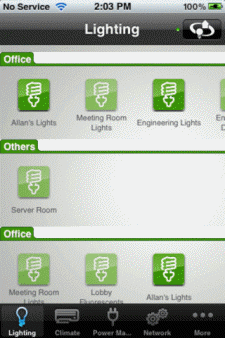 Download your Free Wiser HD iPad/iPhone App or iPhone/iPod App from the Apple iTunes apps store.

Then connect your iPhone/iPad to your C-Bus home automation through your Wiser's wireless WiFi access point, or your mobile phone's 3G data network. Once connected there's nothing to configure.

Access most devices that your Wiser home controller does: Lighting, climate control, home theatre, multi-room audio, motorised blinds and curtains, roller shutters, ceiling fans, exhaust fans, automatic watering, and surveillance cameras.

Use multiple iPhone or iPad connections simultaneously, all with a consistent user experience.

Use the Wiser Android app for your Android phones and Internet tablets. Your computers, Sony PS3 and other devices with Flash Internet browsers may directly access the Wiser's IP user interface.